I only have US keyboards but sometime I need to write in German. The German alphabet has some more letters like ä ö ü for example.  Wikipedia has some information on the Umlauts.
In the past I use the Windows (only works on MS Windows) Alt Key Codes like this:
| | |
| --- | --- |
| Ä | ALT+0196 |
| ä | ALT+0228 |
| Ö | ALT+0214 |
| ö | ALT+0246 |
| Ü | ALT+0220 |
| ü | ALT+0252 |
| ß | ALT+0223 |
| € | ALT+0128 |
This works very good but I wanted to just have to press a key or two and not to remember a code. I found V-USB project on the web and I still had some old AVR AT90S2313-10PI at home. I used the HID Key reference project to develop my little keyboard. I had to change the code to not just send one key if pressed but hold ALT down and send 4 other keys. The code uses nearly all the flash of the 2313 so if you want to add more keys or larger commands I suggest to use a AVR with more flash. I think this would also make a good macro keyboard for games. This hardware can send key strokes just like a keyboard and it should work with any application.
Fist I started to put all on a breadboard and got it to work, the only challenge I had was I forgot about the reset 10k resistor to start it up 🙂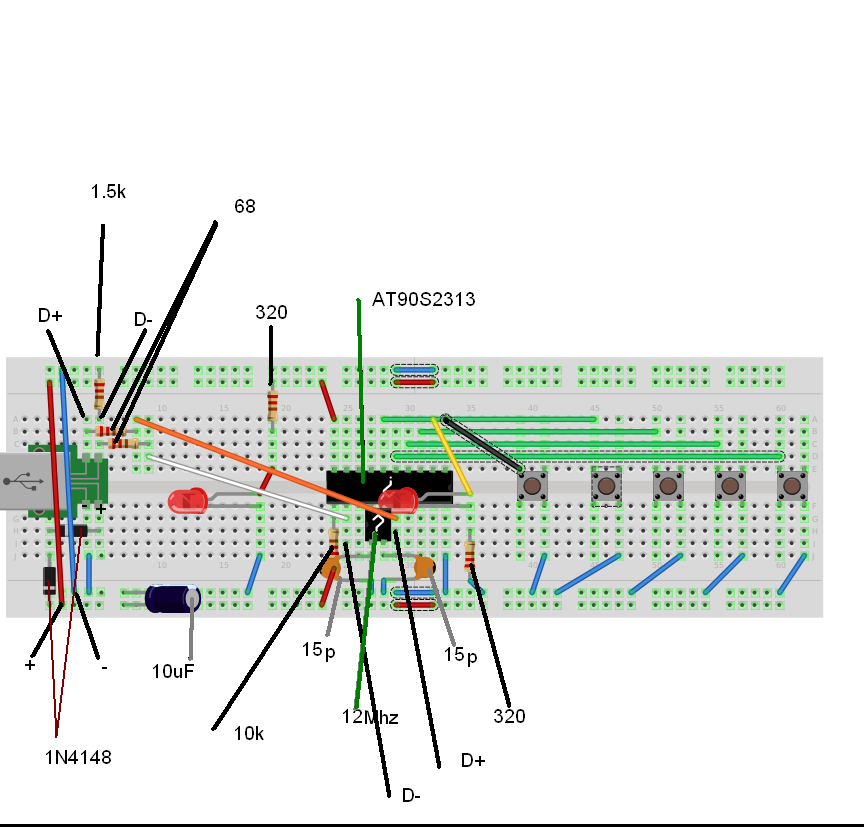 After everything worked on the breadboard I decided I liked it and wanted to make it more permanent installation. I use this version for a long time…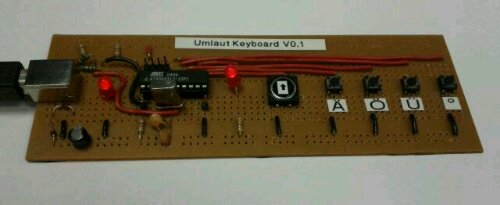 … until I decided I want to try out CiKad to create a real PCB made by BatchPCB: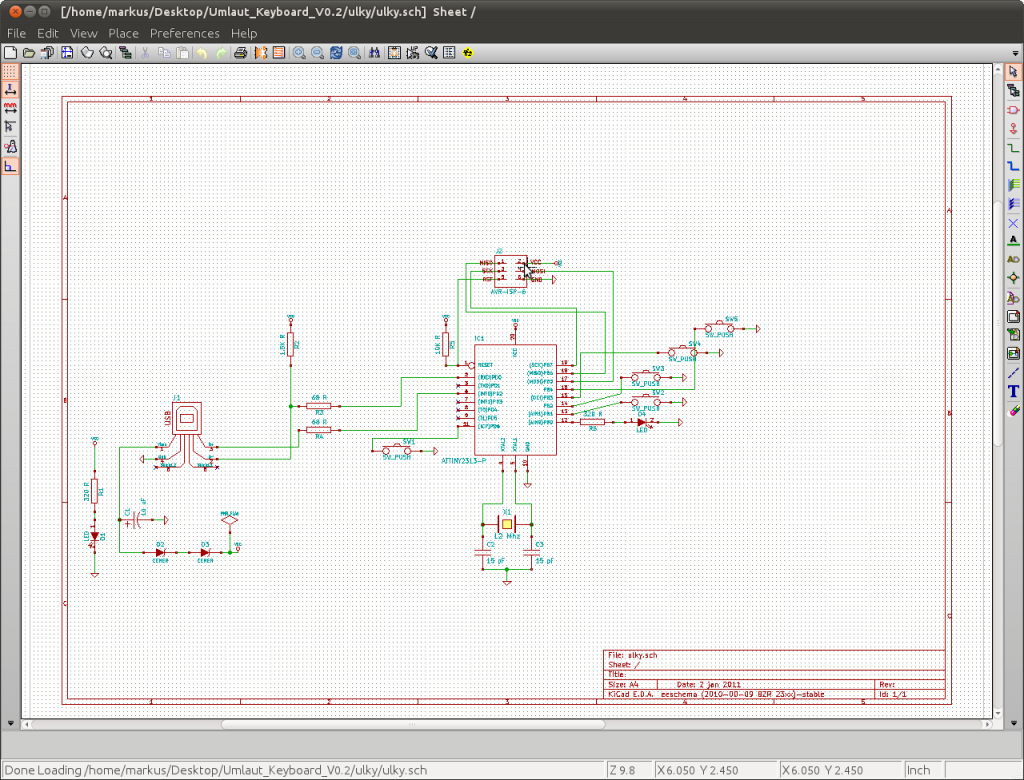 I added all the part to the schematic editor and connected all the lines, I used the soldered breadboard as a reference. There is one more program not shown here where I had to assign the form factor to all the part.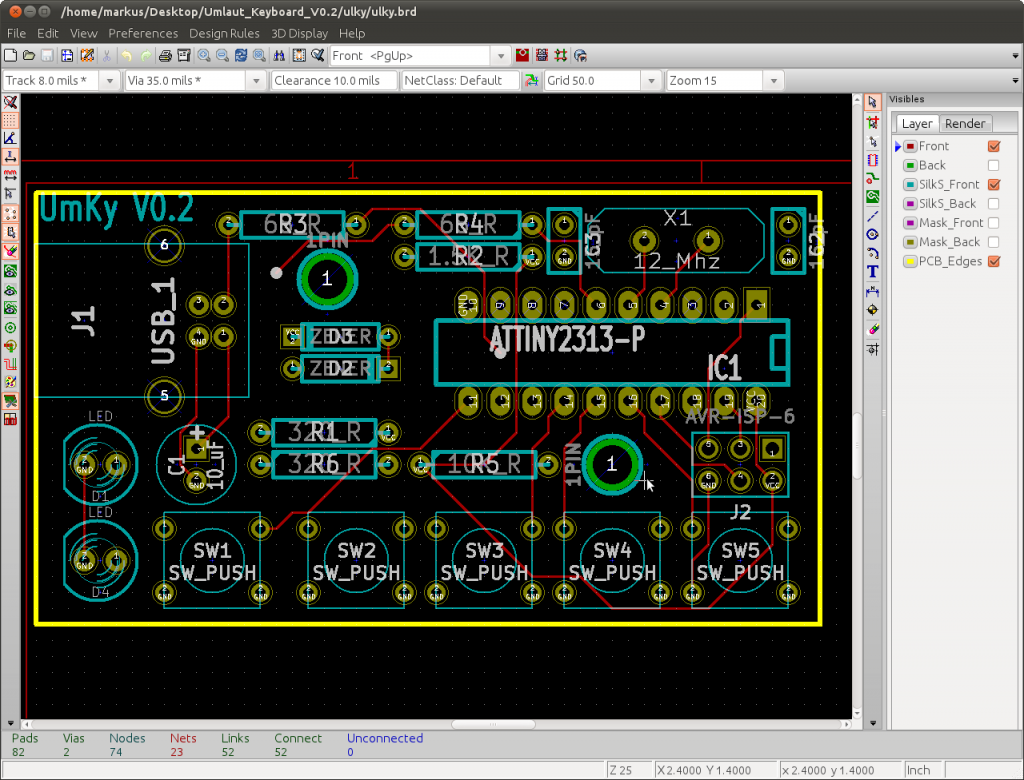 The auto route feature worked OK and I only had to change very little to get how I wanted it. Now I created a Gerber files like this: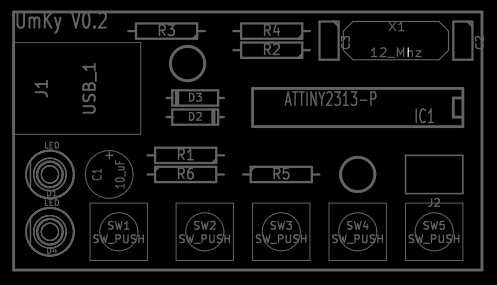 I used my laser printer to print out the Gerber files and made sure all the parts would fit by just laying the part on the sheet of paper.
Here is a parts list:
C1  10uF
C2,3  15pF
D1 D4  LED
D2,3  1N4148
IC1 AT90S2313 or ATTINY2313
J1  USB_1
J2  ISP-6
R1,6  320 R
R2  1.5K R
R3,4  68 R
R5  10K R
SW1-5 SW_PUSH
X1  12 Mhz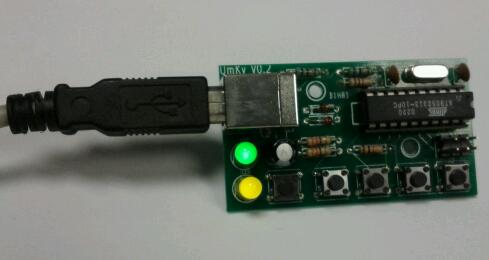 The green LED is always on if USB has power and the yellow LED is controlled by the micro controller: it flashes quickly if a key is sent and it blinks slowly all the time.
The most left key is the shift key and the next 4 keys are ä, ö, ü and the ° symbol if you hold shift you get Ä, Ö ,Ü and ß.
Please download all the source code and schematics (KiCad project) and Gerber file from here: Umlaut_Keyboard_V0.2.tar
You can also find the PCB on the BatchPCB web page.