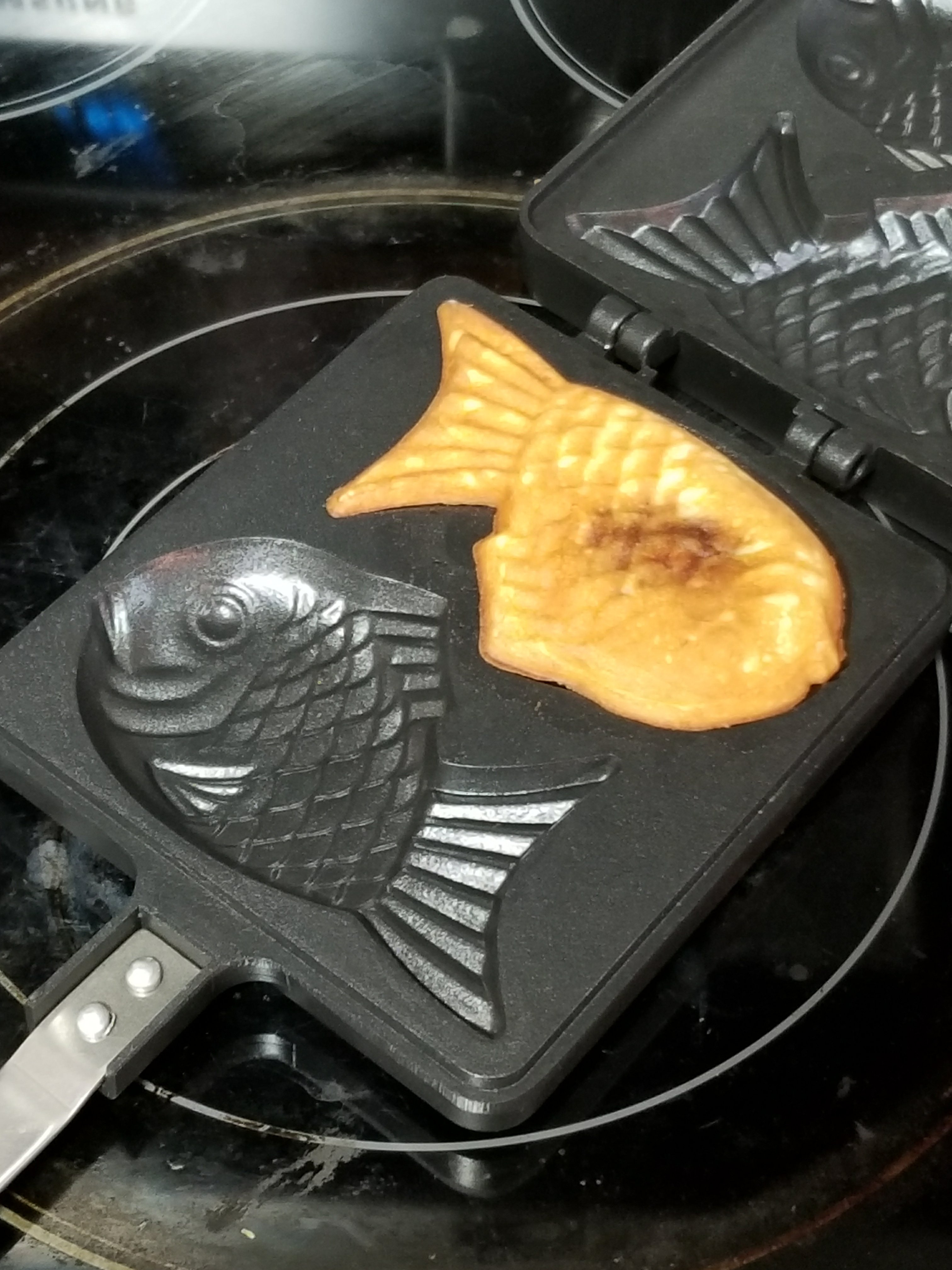 Taiyaki is a filled Japanese pan cake. The traditional filling is red bean past. I'm sure this recipe will also work for standard American pan cakes and waffles. I guess it would be possible to make a low carb black soy bean past, but I had some low carb nutella on hand that needed to be used.
I ordered this pan: Amazon link.
I used this recipe as a starting point: source link.
The little filled pan cakes are very good tasting. The cake part reminds me a little bit of waffel house. As next step I would like to experiment with different fillings. I would like to try a lemon custard or a piece of chocolate next.
Ingredients
Batter:
112g (4 oz)

cream cheese, softened

4

eggs

10 g (2 tsp)

vanilla extract

15 g

Erythritol
18 g Carbalose
18 g resistant wheat starch
10g

baking powder

1

dash

cinnamon
4g (1 tsp) optonal Konjac Glucomannnan Powder for American pancakes
Filling:
Instructions
Mix all the ingredients in a blender.
Heat up pan to 350 F (on my stovetop I set it on 3 (range is 1-9)). Put some oil in each mold and rub with paper towel.
Pour batter into the fish molds until it reaches the tail. Move mold around to fill the fin and tail.
Drop some low carb filling in deepest part of each mold, I used 5 g low carb nutella per fish. Press down with finger until everything is covered with batter. If needed pour a little more batter over filling.
Close the mold and flip it immediately, turn around so batter goes in all spaces. Let cook for 2 minutes. Flip back and let cook for 1 more minute.
Remove Taiyaki from mold and repeat. This makes 6 batches or 12 fish for me.
Nutrition from MyFitnessPal
70 calories
2.3 g carbs, 1.6 g fiber, 0.7 g net carbs
3.2 g protein
5.1 g fat